An increasing number of products in the CERTEX range have RFID, in order to easily identify the products in connection with, for example, service. Here you can read more about why we like RFID, what equipment is required to use RFID and whether it is relevant to add RFID to a product afterwards.
---

Why should I choose equipment with RFID?
When you choose lifting equipment or fall protection with RFID, you get control of your products. Through RFID technology, the product can be quickly identified with a simple scan, which facilitates handling and a possible registration in a maintenance system, for example CERTEX system CertMax+, or in its simplest form in a spreadsheet program such as Excel. This allows you to keep track of information and documents related to your equipment and it also facilitates inspection.
How do I read an RFID tag?
You read the RFID tag on your equipment with a scanner. You can have your own scanner, but you don't need to have it to take advantage of RFID technology. When you hire CERTEX for a service visit, we have a scanner to read the tags on your tools and can then perform the service quickly and easily.
Can RFID be refitted? And if so, is it something that is recommended?
Several of CERTEX's suppliers integrate or have the opportunity to integrate RFID into the products, which provides a flexible and secure solution. For products that do not have RFID, we can retrofit it with a chip directly on the product or through a badge with RFID tag. It's an additional cost to add RFID, but is quickly repaid by the time saved.
If my equipment does not have a marking plate, but still has its RFID tag, is that enough?
Yes, because it allows us to identify the tool! Lifting equipment without marking plate is normally not approved for use. However, if the tool has RFID and the information has been registered in a system, it can be easily identified and the tool can be equipped with a new marking plate.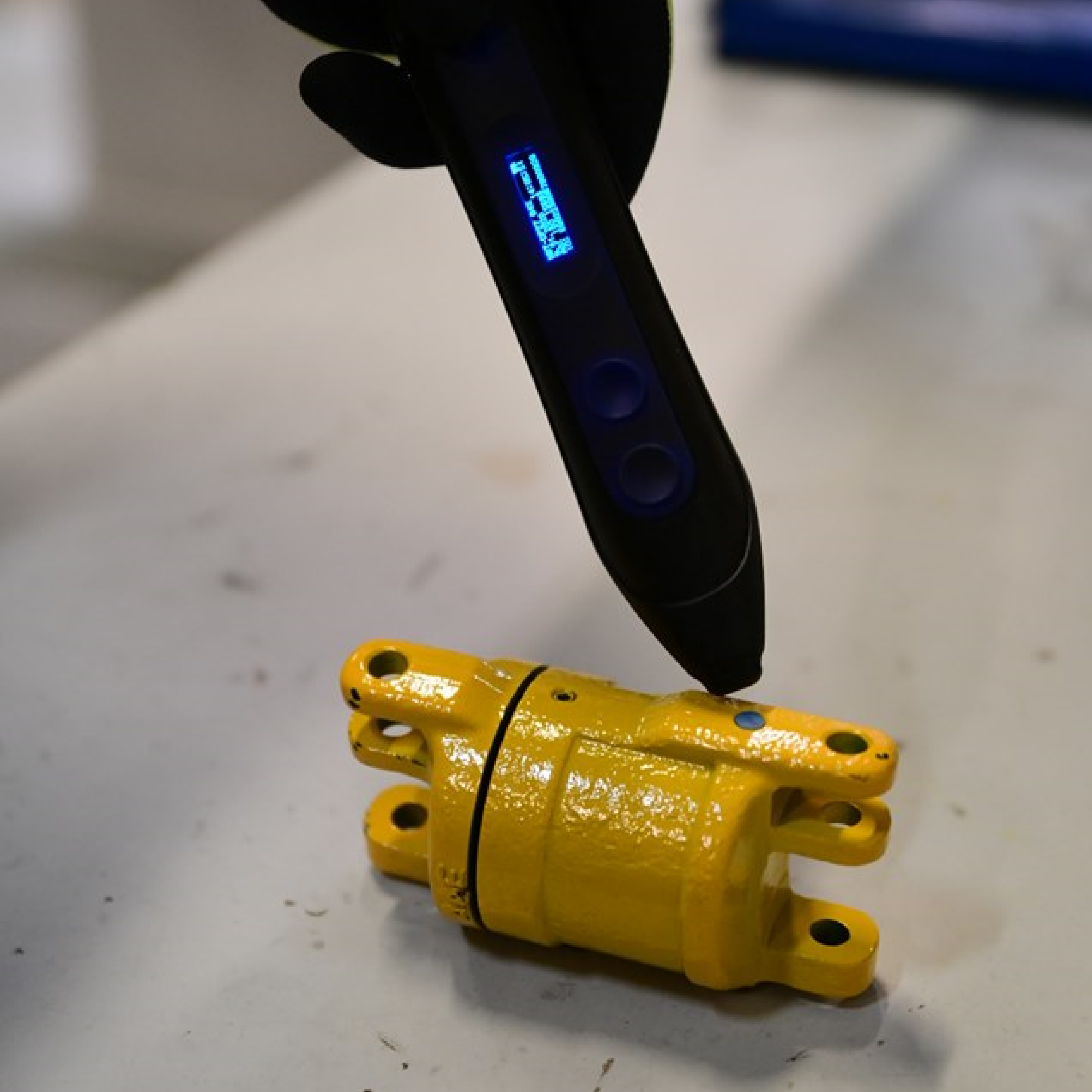 Facts: What is RFID
---
RFID stands for Radio-frequency identification and is a technology that makes it possible to read information from an RFID tag. The simplest RFID tags send out a unique ID number and can be read from short distances, which can be compared to a classic barcode. However, it is quite sufficient to provide information to the RFID reader, which can then link the unique identification with additional information in a database. RFID tags can be very small and can therefore be placed on most products, including textiles.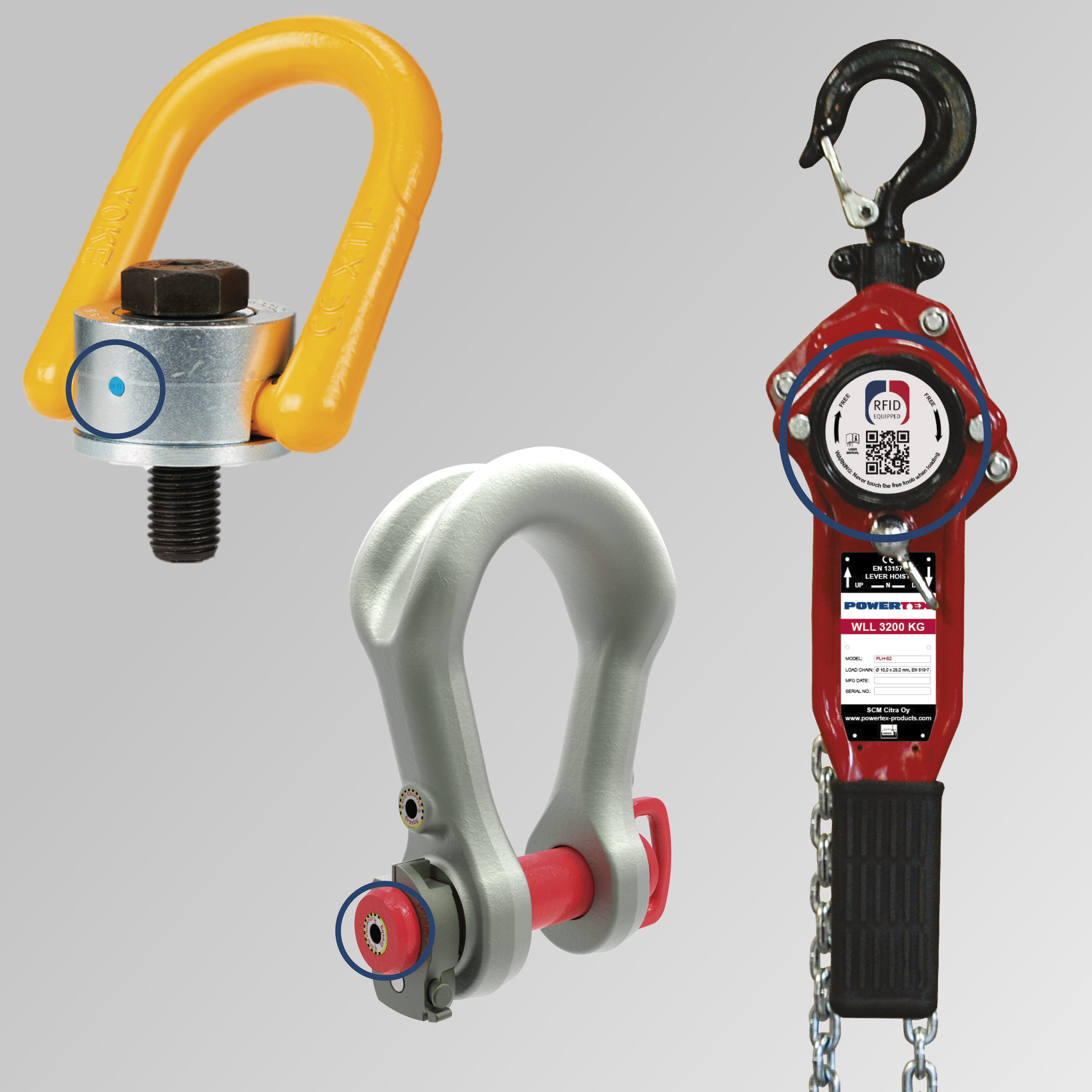 Integrated RFID chip provides a flexible and secure solution, as the tag is a natural part of the product and does not risk falling off.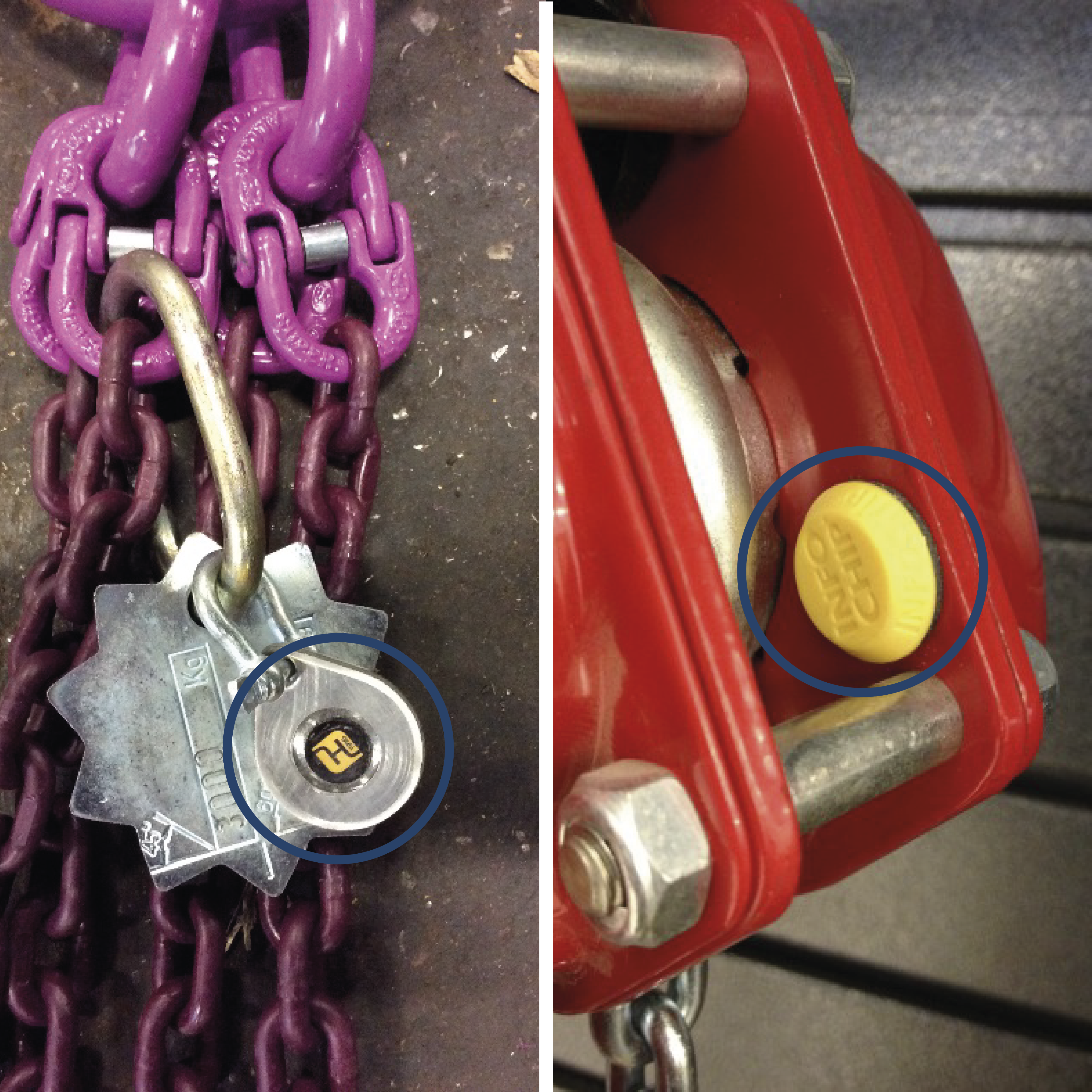 Retrofitted RFID tag, with a marking plate with a tag (left) or with an external chip (right).
Take control of your equipment!
Do you want to know more about how you can get a better control of your equipment with RFID? Leave your information below and we will contact you soon.