Features:
Verotop S+ is the strongest of all compacted rotation-resistant ropes.
Verotop S+ achieves very good bending fatigue results.
Verotop S+ offers excellent resistance to crushing and abrasion.
Verotop S+ possesses perfect spooling behavior on multilayer drum.
Verotop S+ can be used either with or without swivel.
Verotop S+ is a category 1 rotationresistant rope in accordance with ASTM A1023.

ISO 4309 Rope Category No: All Diameters RCN.23-2
Rope construction: Verotop S+ is a very flexible rotation-resistant rope with compacted outer strands and extremely high breaking strength.
Marking: According to standard
Standard: EN 12385-4
Mobile crane

Crawler crane
Verotop S+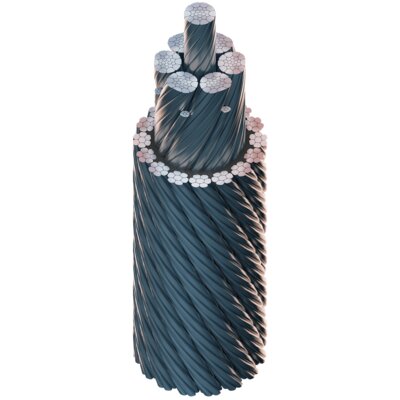 Currently this product cannot be added to an online quote. Please contact us directly for enquires.
| | | | |
| --- | --- | --- | --- |
| Wire Rope | Steel | Minimum breaking strength | Weight |
| Ø | area | 1960 N/mm2 | kg/ |
| mm | mm2 | kN | 100m |
| 13 | 98,4 | 179 | 86,7 |
| 14 | 114 | 208 | 101 |
| 15 | 131 | 239 | 115 |
| 16 | 149 | 271 | 131 |
| 17 | 168 | 306 | 148 |
| 18 | 189 | 343 | 166 |
| 19 | 210 | 383 | 185 |
| 20 | 233 | 424 | 205 |
| 21 | 257 | 467 | 226 |
| 22 | 289 | 513 | 248 |
| 23 | 308 | 561 | 271 |
| 24 | 336 | 611 | 295 |
| 25 | 364 | 663 | 321 |
| 26 | 394 | 717 | 347 |
| 27 | 425 | 773 | 374 |
| 28 | 457 | 831 | 402 |
| 29 | 490 | 891 | 431 |
| 30 | 524 | 954 | 462 |
| 31 | 560 | 1019 | 493 |
| 32 | 596 | 1085 | 525 |
| 33 | 634 | 1154 | 559 |
| 34 | 673 | 1225 | 593 |
| 35 | 714 | 1298 | 628 |
| 36 | 755 | 1374 | 665 |
| 38 | 841 | 1531 | 741 |
| 40 | 932 | 1696 | 821 |
| | | | | | | | | | | | |
| --- | --- | --- | --- | --- | --- | --- | --- | --- | --- | --- | --- |
| Diameter | Total number | Outer strands | Number of wire break at discard | | | | Average | | | Elasticity | Elongation |
| Ø | of wires | number of wires | Regular lay | | Lang´s lay | | fill | spin | weight | modulus | under 3% |
| mm | | | 6 x d | 30 x d | 6 x d | 30 x d | factor | factor | factor | (kgf/mm²) | of MBL |
| 8-42 | 327 | 208 | 18 | 35 | 9 | 18 | 0,61 | 0,89 | 0,92 | 12250 | 0,290 |
| 43-48 | 367 | 248 | 21 | 42 | 10 | 21 | 0,61 | 0,89 | 0,92 | 12250 | 0,290 |
| 49-60 | 407 | 288 | 24 | 48 | 12 | 24 | 0,61 | 0,89 | 0,92 | 12250 | 0,290 |