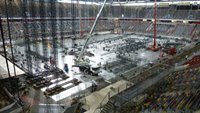 CERTEX Backstage on Eurovision Song Contest
More than 114 Million people from all over the world watched the Eurovision Song Contest 2011. There were artist from 43 countries and a superlative show. Invisible for the audience was Certex's contribution. The lifting specialist supplied hundreds of slings, more than 5.000 shakles and an innumerable quantity of steel wire ropes with diameters up to 36 mm.
Because of the special requirement in flexibility and short time of delivery there was the slogan for Certex: "The show must go on". At least after the big final the total Certex Team was proud to be involved. Today we are looking already forward to the next mega event. There is no business like Show business!