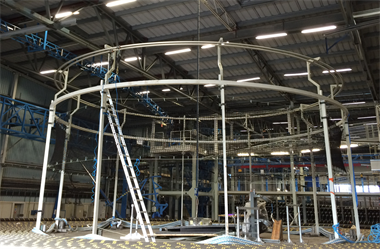 Certex first in the world to install Skyrail
In May CERTEX assembled the world's first Skyrail at our customer's premises. Skyrail is a horizontal fall protection rail systems in aluminum. The skyrail system that was recently assembled consists of two circular rails, one with a radius of 9879mm and one with a radius of 9551mm. This montage makes CERTEX the first distributer in in the world to sell and install Skylotecs Skyrail.

On site during the installation was Klas-Peter, one of the supplier's own construction engineers who made sure that the montage was done just as it was intended to and he carefully reviewed the work in order to optimize Skyrail for future installation. The Skyrail system complies with the standard EN 795/D and can also be used for rope access. The system is designed for floor, wall and ceiling mounting, and are available in many different designs which not only allow circular installations but opens up a wide range of possibilities for horizontal installations. This makes Skyrail suitable for installation in a variety of areas. The user can insert and remove the runner anywhere in the system, allowing flexible work. Skyrail is designed for use by up to three people at once.

CERTEX's salesman Christian Persson, who attended the installation of the first Skyrail, says that the fitting of the fall arrest system went very well and that you can feel that Skylotec is a high quality supplier with solid knowledge. CERTEX is satisfied after the world's first installation of Skyrail.