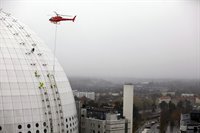 CERTEX wire rope in Stockholm Skyview
On February 5th 2010, Stockholm's new tourist attraction Stockholm Skyview was completed. It is a gondola taking visitors up to the Ericsson Globe's top that is located 100 meters above ground. The attraction consists of two sphere cabins going up along a rail on the left side of the Globe. There are room for 16 passengers in the cabin and the total weight is seven tonnes.
Every day hundreds of visitors follow along on a tour with Stockholm Skyview. One of the key components to make it possible to travel along the side of the Globe is the 275 meters long steel wires with a diameter of 26 mm that CERTEX has delivered. Overall, Stockholm Skyview uses 1100 meters as each cabin is fixed on two steel wires. It is important that there are two steel ropes on each cabin in case one of them would break.
CERTEX Sweden's CEO Stefan Jagelid says "CERTEX are very proud to be the first choice of wire rope supplier to a prestigious project such as Stockholm Skyview. I think the reason why they chose us depends a lot on that we can provide the technical support as a project like this requires."