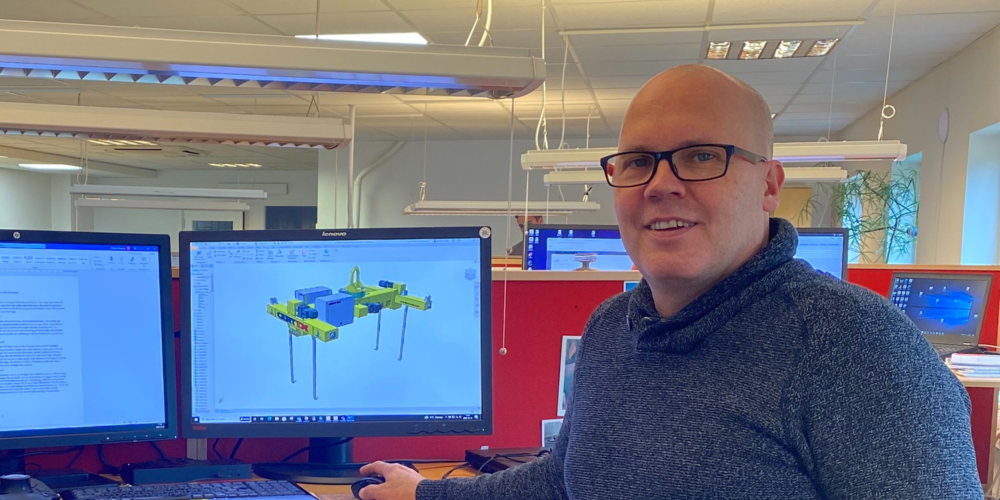 Designer with an iron eye on safe solutions
Christian Skoglund is design manager at CERTEX Special products. His mission is to ensure that each unique lifting device meets the high safety requirements at all stages of the design process. A varied job that involves new challenges every day.
Tell us about your background.
- I come from a background with automation of machines from the textile industry and the printing industry. It may seem far from what we do daily at Special Products, and that was the case at the beginning of my time here, but over time we have entered markets where we built and integrated automatic functions into the lifting tools with the customer's existing systems.
What might an automation of a lifting tool look like?
- For example, we have integrated load cells into lifting tools, so that the customer can see on the controller how much the load weighs. We have also integrated sensors into lifting yokes that alert the operator if the load hangs obliquely. There are endless possibilities and we are there for the customer to find the best solution in each unique situation.
More generally, what are you designers doing?
- We create solutions for lifting needs that cannot be solved with standard products. In short, it is about lifting and handling specially manufactured products that weigh everything from a couple of milk packages up to a whole horde of elephants, that is, hundreds of tons. Today we are nine designers, but we are growing rapidly and bringing in ever larger projects, which is why we are looking forward to becoming more.
What can you help customers with?
- We want to be a resource for the customer at an early stage of the development process, to facilitate the handling and lifting of the finished product. By reviewing the big picture, we can find ways to optimize the lifting tools, so that one tool can handle different types and sizes of loads. For example, we can develop accessories for storing tools, or get an overview of how the goods are handled at each stage of the customer's premises. For the customer, this means less equipment to handle and store when the tools are not in use.
How do you work with safety?
- When we work with lifting, safety is everything, and something we carry with us in everything we do. Every assignment has its challenges, for us it is about giving the customer a safe and secure solution that covers their needs. In each project, we work with risk analyzes to be able to write off potential risks. Our lifting devices are always CE marked, and we always carry out a test load before they leave us – all so that the customer is safe in using lifting tools from CERTEX.