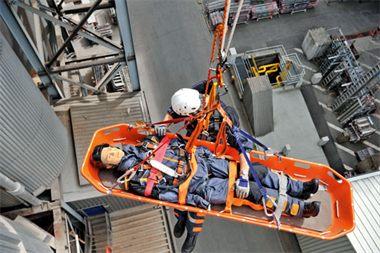 Work safely - don't forget fall protection
Work safely at height - do not forget fall protection and rescue equipment!

According to the Swedish Work Environment Authority "falling to a lower level is one of the most common reasons that people die or suffer serious injuries in the construction industry. There is therefore a requirement to prevent fall hazards even at heights of 2 meters or more in the construction and civil engineering work."
From this year, companies that work without any kind of fall protection may have to pay a penalty. You can read more about the penalties in the "föreskrifterna om byggnads- och anläggningsarbete" (AFS 1999: 3 - in, for example 56a, 60a, 86a and 92a §§).
At Certex we offer fall protection, rescue equipment, systems and many accessories that make your work at height simpler, safer and more convenient. We have equipment suitable for people working at height daily, or for those who only occasionally need fall protection equipment.
Francis Bacon, the English philosopher, once said that "Knowledge is Power". To understand the risks that work at height involves give every individual the opportunity - the power, to minimize the risks, in every situation. Knowledge to use fall protection correctly reduces the risk of fatal injury in case of a fall. Certex can offer you the knowledge you need, whether you have logged 1000 hours working at heights or never before used a fall. Contact us today - we will help you.
On Certex we can fall protection - for your and others' safety.