Properties:
verotop E has a high breaking strength with very strong resistance to drum crushing.
verotop E is fully lubricated and made both of galvanized and ungalvanized wires.
verotop E is a very flexible rope.
verotop E should be used with a swivel.
ISO 4309 Rope Category No: All Diameters RCN.23-2.
Rope construction: Rotation resistant rope with compacted outer strands.
Marking: According to standard
Standard: EN 12385-4
Fill factor: 0.7
Tolerance Ø: 2% - 4%
Tower crane

Truck crane

Overhead cranes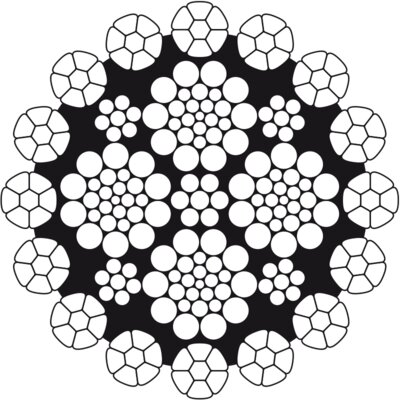 Verotop E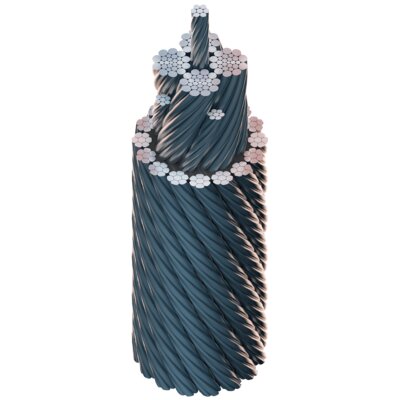 Select a row from the table below, then click the add to quote button
| | | | | | | | | | | | |
| --- | --- | --- | --- | --- | --- | --- | --- | --- | --- | --- | --- |
| Diameter | Total number | Outer strands | Number of wire break at discard | | | | Average | | | Elasticity | Elongation |
| Ø | of wires | number of wires | Regular lay | | Lang´s lay | | fill | spin | weight | modulus | under 3% |
| mm | | | 6 x d | 30 x d | 6 x d | 30 x d | factor | factor | factor | (kgf/mm²) | of MBL |
| 8-42 | 327 | 208 | 18 | 35 | 9 | 18 | 0,67 | 0,87 | 0,88 | 12900 | 0,276 |
| 43-48 | 367 | 248 | 21 | 42 | 10 | 21 | 0,67 | 0,87 | 0,88 | 12900 | 0,276 |
| 49-60 | 407 | 288 | 24 | 48 | 12 | 24 | 0,67 | 0,87 | 0,88 | 12900 | 0,276 |