General: Swings more than 180°, rotates through 360° due to its unique ball bearing design. Secured four times against breakage in all load directions.
Load rated parts are 100% magnaflux crack detected.
Individual forged parts and cap screw are traceable to Test Certification.
Proof tested to 2.5 times the WLL.
Fatigue rated to 1.5 times the WLL.
All YOKE Lifting points meet or exceed all the requirements of ASME B30.26.
Easy to measure disposal stage by using with the new WLL tables.
Easy to attach or dismantle due to the forged hexagon shaped body of the Super Point.
Maximum WLL in axial direction when load ring is aligned.
Capable of rotating under load. Do not turn continuously in 90 degree direction at full load.
Material: Forged alloy steel, quenched and tempered.
Marking: According to standard, CE-marked
Finish: Painted.
Standard: EN 1677-1
Safety factor: 4:1
Grade: 10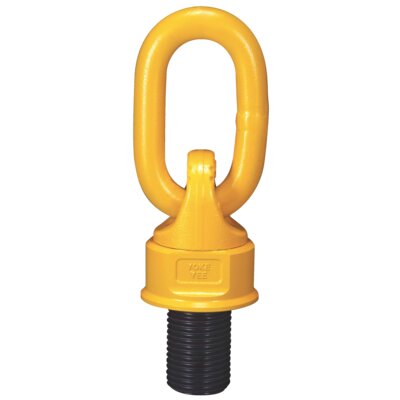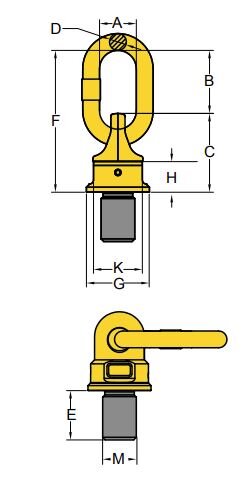 Select a row from the table below, then click the add to quote button
Download CAD

Download CAD by choosing the desired product from the table above and the format from the menu below. Click "Get CAD" and after the load reaches 100% you can click on the download icon to download it. Please note that CAD drawings are only available if the icon at the right side of the table above is colored and not grayed out.
No of
legs

1

2

1

2

2

2

3-4

3-4

2

3-4

Angle of inclination

0°

0°

90°

90°

0°-45°

45°-60°

0°-45°

45°-60°

unsymm.

unsymm.

M 8

0,6

1,2

0.3 (0.4)

0.6 (0.8)

0,4

0,3

0,6

0,4

0,3

0,3

M 10

0,9

1,8

0.45 (0.6)

0.9 (1.2)

0,6

0,4

0,9

0,6

0,4

0,4

M 12

1,2

2,4

0.6 (0.7)

1.2 (1.5)

0,8

0,6

1,2

0,9

0,6

0,6

M 16

2,6

5,2

1.3 (1.5)

2.6 (3)

1,8

1,3

2,7

1,9

1,3

1,3

M 20

4

8

2 (2.5)

4 (5)

2,8

2

4,2

3

2

2

M 24

7

14

3.5 (4)

7 (8)

4,9

3,5

7,3

5,2

3,5

3,5

M 30

10

20

5 (6)

10 (12)

7

5

10,5

7,5

5

5

M 30

12

24

6.7 (6.7)

13.4 (13.4)

9,4

6,7

14,1

10

6,7

6,7

M 36

15

30

8 (10)

16 (20)

11.2 (14)

8 (10)

16.8 (21)

12 (15)

8 (10)

8 (10)

M 42

17

34

13 (13)

26 (26)

18.2 (18.2)

13 (13)

27.3 (27.3)

19.5 (19.5)

13 (13)

13 (13)

M 48

18

36

14 (16)

28 (32)

19.6 (22.4)

14 (16)

29.4 (33.6)

21 (24)

14 (16)

14 (16)

M 52

25

50

20 (20)

40 (40)

28 (28)

20 (20)

42 (42)

30 (30)

20 (20)

20 (20)

M 56

28

56

20 (22)

40 (44)

28 (30.8)

20 (22)

42 (46.2)

30 (33)

20 (22)

20 (22)

M 64

28

56

20 (22)

40 (44)

28 (30.8)

20 (22)

42 (46.2)

30 (33)

20 (22)

20 (22)

M 72

50

100

40 (40)

80 (80)

56 (56)

40 (40)

84 (84)

60 (60)

40 (40)

40 (40)

M 80

50

100

40 (48)

80 (96)

56 (67.2)

40 (48)

84 (100)

60 (72)

40 (48)

40 (48)

M 90

50

100

40 (48)

80 (96)

56 (67.2)

40 (48)

84 (100)

60 (72)

40 (48)

40 (48)